Getting in the Game
At first glance, the fulfillment center seems like just another Newark commercial warehouse. That's because it is.
The vibrant colors of the neighborhood are not apparent at first, but when you meet the motley crew of people behind these loading-dock doors, it is hard not to sense the excitement that comes with making stuff.
Through the ally gates, a rush of history seeps in as you enter the old Ballantine Brewery, which was once a great pride of Newark production. Rows upon rows upon rows of mini pine trees take over the floor space. In a small office to the right, you will find a rag tag group of equally passionate people, all from different backgrounds but working comfortably and playfully, sharing the same core values and responsibilities.
We first meet Wanda, Walter, Gaylord and Rosalind – the powerhouses of the operation. Though they move ever so slowly, they are reliable and a great source of energy. We discuss urban farming projects and how Walter helps build greenhouses throughout Essex County. He describes the first garden he ever grew in Rahway. "Rahway, like the street?", he replies "No, the prison."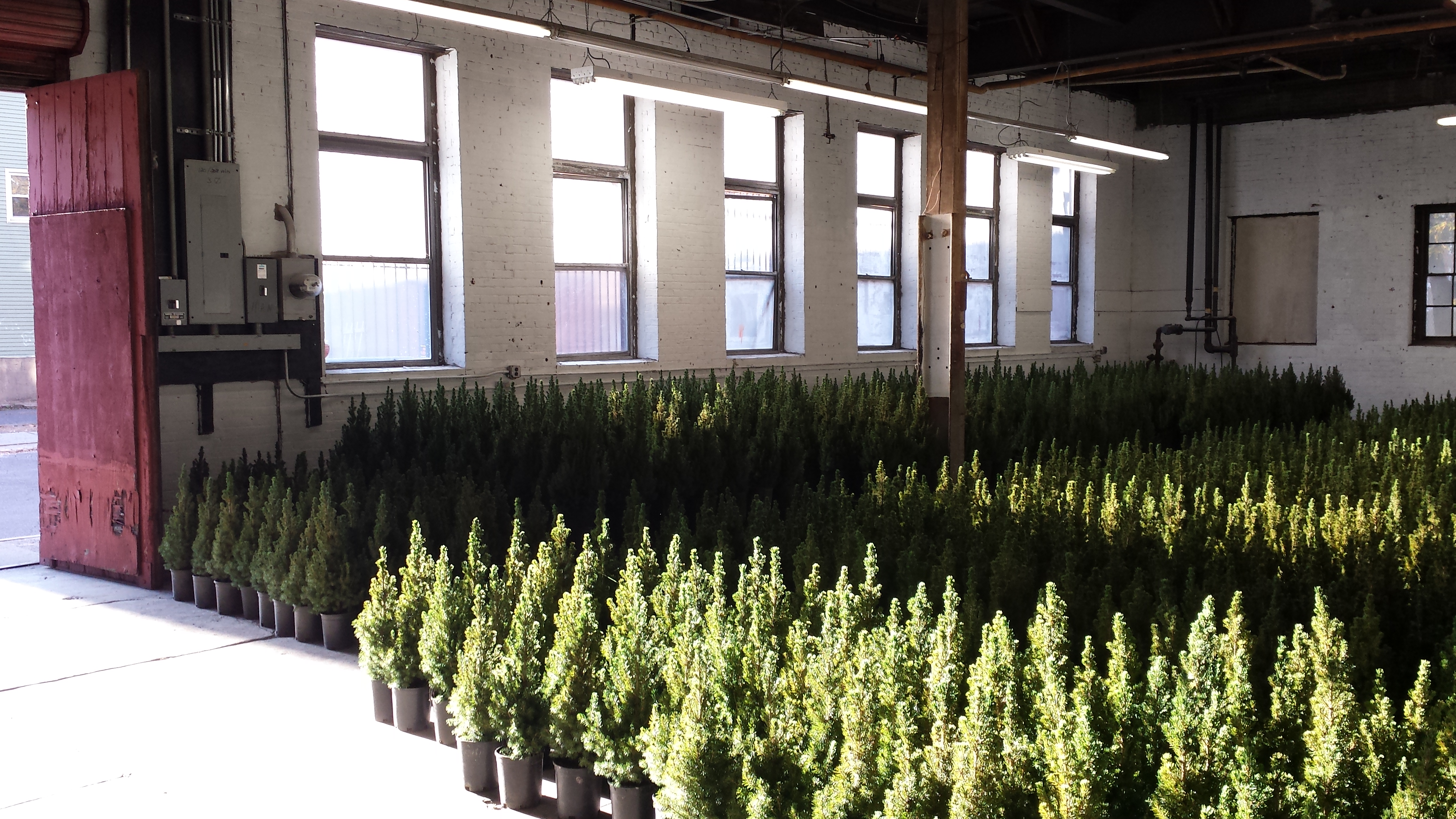 You would never know these amazingly warm and generous people were once held in prison. Few can relate to the constant resistance that tugs at them every day. Their passion to improve their lives, and the lives of those around them is magnified by the lifetime battle of never being forgiven by the system. Luckily, a community of ex-offenders called the Prodigal Sons & Daughters Redirection Services supports their yearning for success.
Next, we meet Chas Fox. Not quite an ex-offender in the same sense, but an ex-offensive receiver in the NFL. He is the CEO of home and garden business, Back to Nature, with whom we have partnered to start making stuff. His hard working, southern roots add a whole other vista to the fulfillment center community. He quietly guides the New Ark team through our first contract – fulfilling orders for a line of living gifts for Brookstone; decorated tabletop Christmas trees, terrariums, and planters filled with amaryllis bulbs.
Amparta, Catalina, and Wendi represent the Spanish and Portuguese speaking Ironbound, embodying Newark's hard working heritage. Every day our respect for their work ethic rises (and the smell of their culinary genius percolates through the air at lunchtime).
The preparation begins for a journey of learning through trial and error, and an endless realization that comes with putting yourself in someone else's shoes. One step closer to establishing a "maker" economy, and one step closer to empowering the Newark workforce that anxiously awaits.