A New Ark Farms' planting to remember
The day started off a little shaky. Our creative partner Doug Cameron missed three consecutive trains from New York to New Jersey, and we received a slightly concerning phone call from our orchard consultant Win Cowgill suggestively asking which pollinators we were planting along with the trees.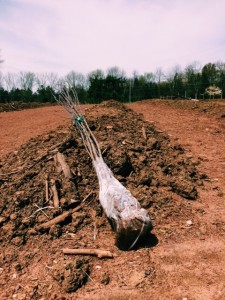 This was not so settling for Charles (the neurotic parent) who has been in a state of incertitude ever since the responsibility to bring back the Harrisons has been put in our hands. But, thanks to a stop at Dunkin' Donuts and a quick Wikipedia search for "what are pollinators?" the line was closed, and we moved along. Needless to say, the crew was excited, and nothing could rain on our parade! (except torrential rain.)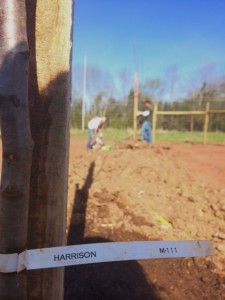 We have validated the "Farm" part of our name, and are officially in the apple biz. The eruption of joy for New Ark Farmers and partners filled the air. We gathered around each tree in our "urban-farmer chic" attire ready to get our hands and feet dirty. Sadly we are not equipped with the knowledge or the strength to plant these bad boys … so we got dirty taking pictures.
New Work is definitely on its way at New Ark Farms.