Ironbound Hard Cider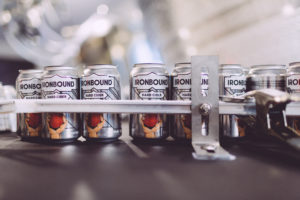 Ironbound Hard Cider has a bold, fresh flavor because, unlike the big cider brands, it is made exclusively from fresh-pressed apples. And not just any apples. Ironbound is made from 100% American apples from Mid-Atlantic and New England orchards —the birthplace of many of America's most beloved apple varieties.
Making cider our way isn't cheap or easy. Instead of ordering apple concentrate from weird foreign industrial auction sites, we've spent a lot of time finding small-scale orchards, which are often run by prickly perfectionists. It's worth it, though, because it makes for far more flavorful cider, and allows us to spend our money on useful things like strengthening our regional economy and keeping American farmland from being taken over by McMansions. And, instead of being on the other side of the planet, our suppliers are just a short drive away—although, in the future, we're considering sending someone other than Walter to pick up our juice.
Some of the apples that go into our cider are downright ugly—too ugly to ever have a chance of getting sold in a grocery store. But, we shop for flavor, not cosmetic perfection, so, as long as they taste great, we don't mind how funky our apples look. And, once they're pressed into that golden juice, they all pretty much look the same anyway! All that matters is that we're giving our regional farmers a market for imperfect apples that might otherwise go to waste, they don't need to douse their orchards in chemicals to avoid every blemish, and we're getting juice that tastes way better than apple concentrate from China.
With the launch of Ironbound, not only are we supporting our local farmers, creating well-paying jobs, and making damn good cider, we're going old-school Garden State. Because, we're not the first ones to figure out that making cider in New Jersey is a good idea. New Jersey has been making the best American cider since before America was America. And believe it or not, the most celebrated cider in the country was Newark Cider! Yes, Newark! Not Boston. Not the Hudson Valley. Not New England. But Newark.
In the 18th and 19th centuries, the best versions of Newark Cider were made from Harrison, Canfield, and Graniwinkle apples—varieties that originated in and around Newark. And, we're bringing these old Newark cider apples back to life at Ironbound Farm—our 108-acre farm in the New Jersey Highlands.
So, come visit us in the spring. You can chat with some of the grumpiest, most knowledgeable, regenerative farmers in the business and drink some of the best cider in the State since George Washington was hanging out in Newark drinking the "champagne of ciders."
And, seeing as working with State and Federal regulators makes its sort of hard to nail down dates for things like tasting room openings, please check out our Ironbound Hard Cider website for updated info. And, feel free to add your name to our mailing list while you're there so we can keep you in the loop.